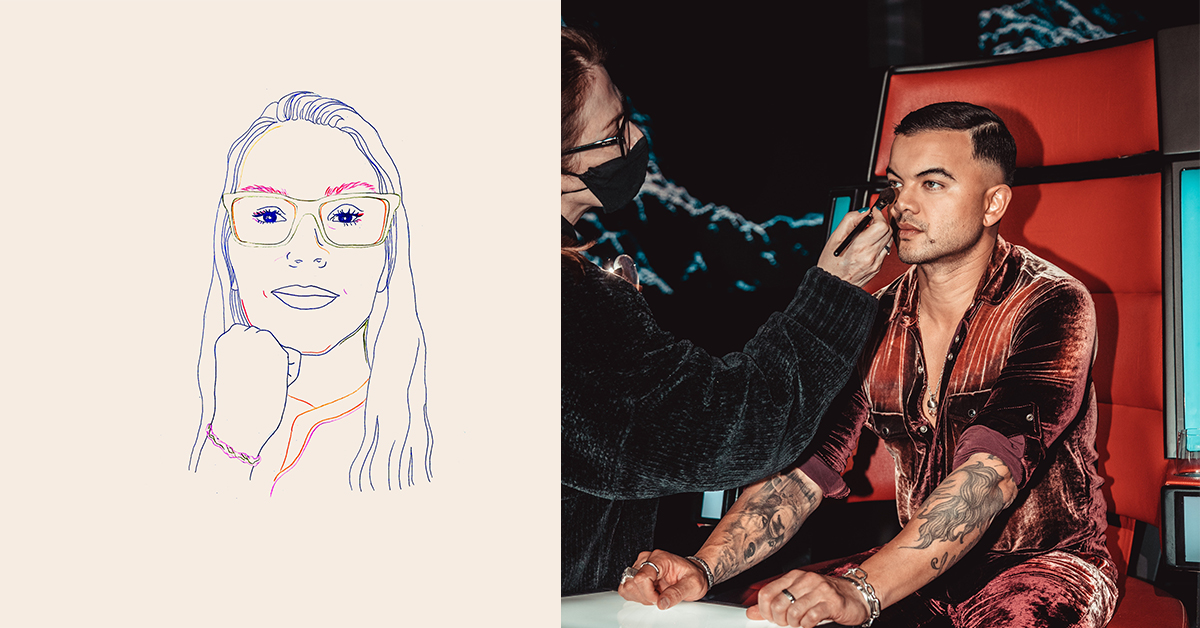 GET TO KNOW: Carol Mackie
If you see someone without a smile, give them yours. (Dolly Parton)
Dolly Parton is an icon, and this fabulous quote summarises the amazingly talented Carol Mackie in so so many ways. Carol, as a human being, operates at such a supreme level of humanity.  She is generous, kind, warm, caring and at every job nurtures not only Guy Sebastian, but any Private Idaho Client… and even us when we need to focus, and of course just have some glam time!  Quite simply, Carol is wired to be kind, remain calm in pressured situations and more than anything she is a massive team player.  She is a gift to all of us and we are so thankful for these past three years of collaboration and glamour at a global level.  As Guy Sebastian puts it "Carol is a magician".
Carol is a Global Senior Artist at MAC cosmetics  and has been with the company for 20 years. She is truly gifted and gives the art of makeup (painted on so many different faces across so many years) an edge and beauty that is always a magnificent sight to be behold.  There is no doubt that inspiration comes to Carol around nature, and the glows of the world through her years of international experience in London, Paris, Milan & New York (for Kenzo, Roland Mouret, Bernard Wilhiem, Missoni, Marni, Emilio Pucci, Salvadore Ferragamo, Vivien Westwood, Zac Posen, Rick Owens, Lanvin,  many more). While her international experience has been a huge part of developing Carols skill set, it's also her passion and dedication to the creative scene in Australia that has made her the incredible artisan that she is.  
In Australia, Carol has directed many campaigns for P.E. Nation, Bec and Bridge, Rebecca Vallance, Wheels & Doll Baby, Jamie Lee Major, Collette Dinnigan, Leona Edminston and many other incredible cultural moments. Of course, Carol has also worked with internationals such as Bella Hadid Cindy Lauper, Fergie (Black Eyed Peas), Gemma Ward, Kate Waterhouse, Emily Barclay,  Nicole Trunfio, Jennifer Hawkins and  Jessica Gomes.
For myself and all of our team just love each and every post and project we see Carol contribute to …. In our world there are so many great moments – still shoots, videos, content builds, and campaigns where Carol has lead the glam spark for Guy Sebastian, Jules Sebastian, ourselves, and some of our new signings.
Carol you are truly a gift both professionally and personally. Please check out her great words below across this week's WORK Wednesday: Love ya x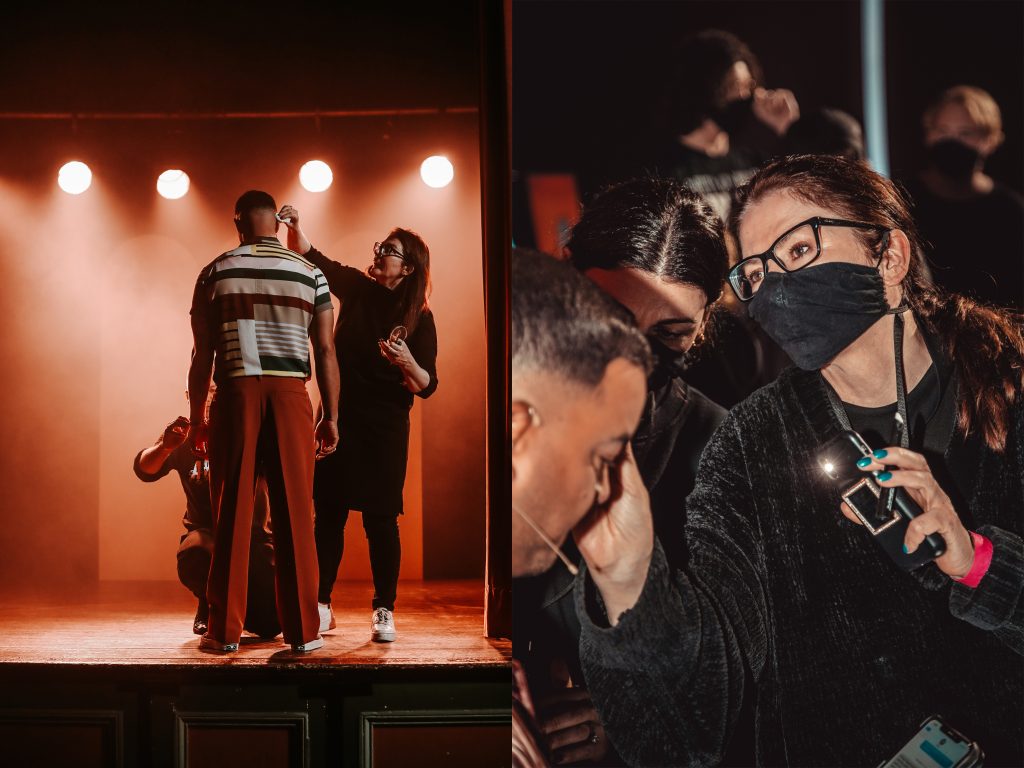 QUICK QUIZ
Biggest advice for those looking to break into your industry?
Passion for becoming a makeup artist is the very core of where it begins. If you love makeup, are passionate about making it a career, love communicating with people. YOU CAN DO IT! … Be prepared to work long hours and for free in the beginning, Whilst work has diminished slightly with the current climate due to Covid in many countries, in Australia the demand for great artistry skills in both retail and as freelance artist is growing. Social media has allowed a platform for artists that wasn't there previously and whilst this might not be everyone's preferred way to connect or show their skills – It is a free form of advertising your work!!! So don't be afraid – go for it check out good makeup courses and get playing!
Is there anything that someone told you when you were younger that still sticks with you today?
Not so much a person but I do recall reading a book called "Feel The Fear and Do It Anyway" I have always stuck by that – every scary time. Getting on a stage to present to a big audience, my first show in Paris, working with big celebrities. I would think – wow someone else should be doing this not me?? can I do this?  I'd recognise how terrified I was and think well I'm not going to die from this..so go for it, what have I got to lose!!
 
Who inspires you and why? 
So many people inspire me in many ways for different reasons.  My mum, because she's so bloody strong and has survived so much! My wonderful friends and artists I work with are amazing! I'm lucky to be surrounded by great teams of people who inspire me with their kindness and generosity, especially The Sebastians – Guy and Jules, who constantly inspire me to be kind to people with their genuine care for those around them. Team Private Idaho Loz always brightens your day with her smile, Jen with her unbelievable strength and determination. 
Artists I have worked with and I am constantly inspired by:-
@jamesmolloymakeupartist  –  very special friend and genius of a makeup artist!
@terrybarberbeauty
@thomasdekluyver
@thevalgarland 
 
What are your go-to products and why? 
Too many to mention but here's a few: 
M.A.C Face & Body Foundation – it's like and invisible filter that subtly enhances the skin both on the face and body! Healthy, glowing, spa skin! Cream products, always the best for blending and melting into the skin. M.A.C Pro Cream Palettes. If there's one thing that model's love getting their hands on – it's my eye lash curler, it instantly opens up the eye whether it's mascara look or not! I love spray sunscreen to add shine and highlight the body and also protect it in the sun! My go to one is Banana Boat SPF 50+.
How do you cope with the crazy hours and unusual demands?
Preparation – be as prepared for anything as possible that's the life of a makeup artist and I chose it! My job is so diverse – I can be on location in the middle of nowhere crawling around covering bruise, backstage, in  a beautiful house or studio, or in the office writing a beauty article or discussing Brand with the leadership team at MAC. I use to be jumping on a plane literally every week, you never knew if that plane would be delayed – because shit happens right!! And it's out of your control, just like the job you are working on you don't have the control you just have to be as accommodating as possible to make people happy and your day will go a whole lot better!
 
Who is your all time style icon (or one of them) and why?
That's a hard one …Tilda Swinton she is so string and confident looking and I love Lanvin which she wears a lot …also love  LAPOINT…but don't get me on designers I can't afford!! 
 
Who is someone – artist/model/ talent etc. –  you would love to do make up for and why?
Angelina Jolie – She has a really interesting face and those lips!! I have also heard she is very lovely to work with.
 
Do you have a favourite colour palette or product you always love to use on talent?
Colour palette really depends on the client and the shoot or request, although I do I have a couple of Foundation/ concealer palettes that I love because I can use them in different ways – sheered out with foundation, as a contour, full coverage to cover blemishes, pigmentation, tattoos. Bobbi Brown Foundation / Concealer Palette. MAC Full Coverage Palette 
 
Where do you draw inspiration as a creative ?
Nature a lot of the time if I'm working on something creative – I love rock formations and colours, and nature always compliments colour wise. There is so much inspirational art on social and beautiful work that inspires me – it's easy to get caught up on your phone these days.
 
You have such a calm and thoughtful approach to creativity – what's your secret ? 
Thank you, it doesn't seem that way to me!! No secret just age..HA!   it's really just the amount of crazy situations I've been in when I need to look calm on the outside and panicking like hell on the inside in the backstage madness, like many artists have to. If you are working with a celebrity they are going through so much in their head usually about to perform or be interviewed. It's often knowing what not to do and when to be quiet and help them by making them look good, feel amazing. So many stories I could tell but the most recent one would be on a show in the middle of the dessert (in Australia) – two plane rides home only to be told the border was closing in a few hours half way through the show! I didn't want to panic my team of 8 artists who had also flown in, so I casually said let's just pack away what we are not using and tidy up our work stations in prep for tomorrow ….deep breath HA!! We will make it work mantra!!
 
How do you balance the need to share work on instagram & how do you make social media work for you ?
It is tricky – Social Media takes time. I like to keep my personal images for Facebook or on Instagram stories most of the time. I also believe the work you put out is the type of work you will gain, so consider this when you are show casing what you do. Many makeup artists like to pop both personal and work images on their feed, which is great, it tells a story about the person's life and can be more engaging – which ever you decide to do keep it consistent, true to yourself and your style of work.
 
What is one simple makeup tip you share for us non-makeup artists? 
Prep your skin well hydrate, nourish and moisturise before foundation and make sure the foundation is well blended down the neck and into the skin not sitting on the surface.
Invest in good brushes for eyeshadow application. …sorry that's two!
 
What is something you don't leave home without putting on your face? 
Mascara, my eyes are so small so if I don't curl my lashes and add mascara I look like I'm exhausted and half asleep.
What has been your top fashion shows you have worked on? 
Westwood!!  Too many to choose from …I love Thom Browne in Paris always very flamboyant show that tells a beautiful story when everything comes together on the runway… Moncler, Giambattista Valli, Marni… the attention to detail in every part of these shows, not only the garments is amazing.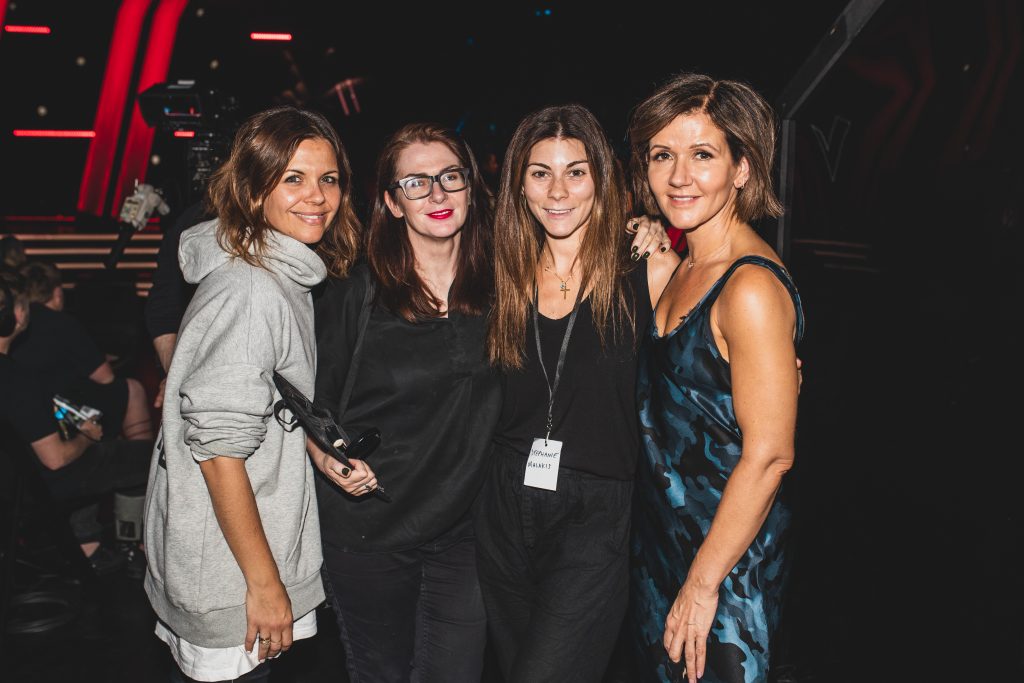 Tags: work wednesday
Trackback from your site.